9800R / 8800R Coverall
This classic overall offers nine functional pockets and are best suited for Offshore, Shipbuilding or Ship repair yard where high visibility and safety are non – compromised. With reflective strip 50mm across shoulders, arms & legs for high visibility, our reflective workwear garments present to you a functional durable work protection solutions at the economical price.
Using only 100% natural cotton fibers, our workwear offers the most comfort for your every needs in the most demanding environments. Our functional series of coveralls are available in lightweight or deluxe thread count.
Coverall Colour Chart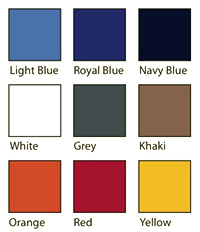 Product Features:
Reflective strip 50mm across shoulders, arms & legs for high visibility
Collar for neck protection
Button down large chest pockets
A total of six pockets for the lover torso
Tool pocket on left sleeve
Box pockets on thighs
Loops for radio antenna on shoulder
Action pleats on knee legions and buck of shoulders
Elastic action waist for body movements
Strategic bartack stitching on critical region
Double Stitching
Comes in lightweight 195gsm or Deluxe 280gsm
A large variety of colors

9800R – Khaki (9801R), Royal Blue (9803R)
8800R – Khaki (8801R), Navy Blue (8802R), Royal Blue (8803R), White (8804R), Grey (8805R), Orange (8808R), Red (8809R), Yellow (8810R)